Books!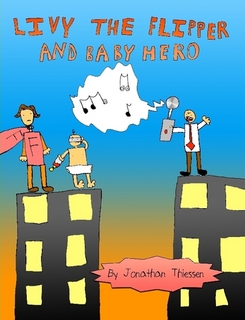 Two new heroes emerge to take on the evil Dr. Destroyer! In this book, read about the exciting beginning of Livy the Flipper and Baby Hero. Dr. Destroyer continues on his quest for taking over the world, but at every turn our two heroes appear to put a stop to his evil plans. Read the exciting adventures of Livy the Flipper and Baby Hero as they stay one step ahead of Dr. Destroyer.
Rave Reviews about the Books !
"I know I'm probably biased because I'm his mom, but this kid writes funny comics!"
"Vivid illustrations and complex storytelling bring this world of super heroes and super villains to life. Mr. Thiessen has a knack for bringing his imagination to the page, unparalleled by his contemporaries. 6/5 stars"
"Oh Plasma Man, you crack me up! What sort of trouble will you get yourself into next? I can't wait to read about it!"